Valdespino Manzanilla Deliciosa en Rama - 37,5 cl.
8.43₣ (Exc. VAT bot. 37,5 cl.)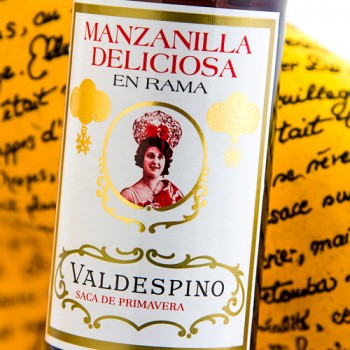 Robert Parker's Wine Advocate
The spring bottling of Valdespino's Manzanilla that I tasted this time is the NV Manzanilla Deliciosa en Rama Saca de Primavera 2015. They do one yearly bottling in the spring when the 'flor' is more active and powerful, and the wine has a more pungent character. The wine that is bottled unfined and with just a light filtration is six-years-old on average when bottled. It is sourced exclusively from the solera at the bodega in the Misericordia street. It shows great intensity and elegance with sharp, saline tension that builds vertically and delivers a great grip of salty, mineral and umami flavors. It's really interesting to taste it next to the en rama version of La Guita, as in a way they are sisters; this has a much lighter color, a fresher character and a sharper palate, while at the same time the wine is probably older. I see an improvement in this bottling too. 7,000 half-bottles were filled in April 2015. The price is for a half bottle.