ABOUT GOURMET HUNTERS
Gourmet Hunters was created in 2012 as a result of the joining of the three founding partners: Claudio Comella, sommelier, oenologist and occasional chef in his free time, who has taken part in many gastronomic competitions along with working for several restaurants as wine and spirits advisor; Iván Babitsch, website development and usability expert; and Lluís Pablo, worldwide wine importer and distributor.
Which bond links us together? The main idea is the specialized on-line sale of wines and gourmet products, starting from a wide selection of Spanish and international wines at very competitive prices in a comfortable and safe environment. Quite logically, we cannot deny companies have profit as its principal aim, but the "how to achieve it" philosophy may differ substantially. Gourmet Hunters is our gourmet way of life, where we continuously search for new, revolutionary and exclusive products and at the same time we enjoy our work. And because we are aware that, after all, work is where you spend most hours, there is no such pleasure as doing what you really like. A recipe perhaps whimsical which unmindfully makes your day, arising into energy and positive attitude towards people around you (family, friends, suppliers, customers…).
We decided to create Gourmet Hunters because we couldn't find any on-line site specialized in wines that would also offer real expertise with quality contents, opinion and weekly recommendations, as the vast majority only had an impersonal and cold wine brochure without any guidance or tuition, focused only in sales and with no thought for the user. Because we care about you, and because thanks to people like you we can keep on selecting the best wines within reach.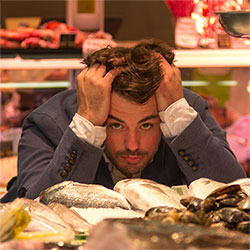 Claudio Comella
Ivan Babitsch
Claudio Comella
Closest people define Claudio as an "overwhelming whirl". He is a man in search for the truth, the very essence and the authentic, with a challenging personality: "I like to see people's reactions". Because of that he is constantly training, to trace the origin and the why of everything.
He quit early his studies on Administration and Business Management to focus in his oenology and sommelier career. At the same time, he broadens his gastronomic knowledge obtaining a chef degree at the Escuela de Hostelería Hofmann, a prestigious restaurant and catering school located at the Born district in Barcelona. After finishing his education, he starts his professional lifework as oenologist assistant working in: Castell de Perelada (Empordà), Domaine de Chevalier (Pessac-Léognan), Pikes Wines (Clare Valley, Australia) and Didier Dagueneau (Pouilly-Fumé). In addition to all the travelling, he learns about grapevine growing and wine making processes, discovering his mentor's best kept secrets. Maybe someday he will produce his own wine?
His unbridled passion for good eating and better drinking lead him to meddling in kitchens and terroirs, hunting the most precious and newest products. Gourmet Hunters is born accordingly to Claudio and his partners' life style, to highlight their knowledge and share them with other wine enthusiasts through Gourmethunters.com and GourmethuntersTV.
Claudio, why Gourmet Hunters?
"Human learning stage is never-ending. Over time, we gain experiences and our tastes do change: what at the beginning surprised us, any wine or dish, after enjoying different elaborations, changing recipes or diverse ways of handling ingredients, we realize that what seemed to be perfect is not so excellent. Why? Perhaps as a result of the accumulated experiences our taste memory gathers references and values that can be used later to contrast with former ones… This is how tasting art works, because we all have to learn!
I wish I have had the right person with me from the very first moment to guide me through the tasting training and who quickly unveiled me how to appreciate worthy stuff, but that was not the case…
Gourmet Hunters for me is a lifestyle, a culture, where I try again and again to seize hold of the wisdom of people around me (vintners, oenologists, vine growers, wine tasters and chefs) and then getting to my own judgements. Considering this circumstances, I feel excited to share what I have learned with other gastronomy and wine lovers who might be tempted to venture. How? Internet is a powerful tool, direct and effective, within the reach of all, where many sites present impersonal wine catalogues. Why shouldn't we turn Gourmet Hunters into a big brother through some sort of gastronomic jewellery that provides the coolest products? Expertise, trends, novelties and talent is what you will find in the social network, wine tasting and Gourmethunters.tv.
Gourmet Hunters is the association of three top- gastronomy hunting partners!
Ivan Babitsch
Once upon a time, among wine pallets and computers, in the middle of a move, Gourmet Hunters' founders decided that the best nickname for Ivan was Mr. Google. Indeed Iván was born between bits and bauds, at the dawn of the network of networks. Some sort of digital entity that turned his hobby into a full time job as computer engineer, keeping the flame of enchantment for the ever-changing Internet universe.
He is the key part, essential in every online business; analytical, scheming, perceptive… A synthesis man, cold as ice. However, he is constantly updated about the technological changes and surprises us with novelties and strategies. He always anticipates what is going to happen! Sharing a glass of wine with Iván is quite peculiar, as his analytic skills make him taste wines following similarities and rejections as if it were a high precision server, actually he hits the bull's-eye many times. A further proof that the wine world is suitable for all audiences!
Inquisitive and with a restless mind, he is always ready to scan new fields of human activity to take pleasure in the thrill of exploration and discovery. Not long ago he learned a new way to seize something deeply rooted in the Mediterranean culture: the world of wine. "To fullyappreciate and enjoy it there is a learning process, but the path to take is always pleasant and amusing, who could ask for anything more?"
Iván, why Gourmet Hunters?
"My career has leaded me to technical consultancy, analysis and IT development for small and medium-sized enterprises, so all the time I have interacted with intermediate layers, never getting to know the impact on final users. Sometimes the excessive compartmentalization of expertises makes us lose perspective; we cannot see the wood for the trees.
Gourmet Hunters is an exhaust valve where my technological job interacts with the final customer, offering constant improvements so the user has a positive experience from direct communication.
My adventure fellows, with their catching enthusiasm and experience have given me the opportunity to enter an exciting world that now I would like to share with you. I wish that, as it happened to me, you participate in our emotion and passions, feel the thrill of discovery, experiences and pleasure, believe me… it is worth exploring it."